Sipeed M1s Dock is a powerful core board with a screen and uses the BL808 RISC-V as the CPU, and the powerful tri-core heterogeneous architecture can play a role in high-performance computing power.
BL808 mainly includes two subsystems, wireless and multimedia. The wireless subsystem includes a RISC-V 32-bit high-performance CPU and integrated Wi-Fi /BT/Bluetooth5 wireless subsystem, which can provide a variety of connection and transmission experiences. The multimedia subsystem includes a RISC-V 64-bit ultra-high-performance CPU and integrates video processing modules such as DVP/CSI/ H264/NPU, which can be widely used in various AI fields such as video surveillance/smart speakers. As well as the BLAI-100 (Bouffalo Lab AI engine) NPU for video/audio detection and/or recognition.
It supports 2.4G WIFI/BT/Bluetooth5. You can choose different networking methods according to your needs to achieve different functions. At the same time, the M1s Dock comes with a USB to UART debugger, so you can easily burn code to the board with just one click. And then It has more rich features that are equipped with a base of the screen and base of the MIPI camera, as well as onboard an analog microphone, an LED, and a TF card slot. For example, you will have a richer experience when choosing a 1.69-inch 240x280 capacitive touch screen and 200W pixel camera.
One advantage of the BL808 is that it can support Linux, and the microcontroller does include an MMU, so you would not have to deal with the usual uClinux headaches.
Highlighted Features
Stronger-performance CPU:

 

main chip BL808 RISC-V + NPU BLAI-100, the highest operating frequency of 480MHz to achieve the powerful performance of a three-core heterogeneous.
Wireless three-mode integration:

 

Support 2.4G WIFI / BT / Bluetooth5, any mode can efficiently be networked.
One-click easy Burning:

 

Sipeed M1s Dock has an onboard USB-to-UART debugger, which can realize one-click burning without pressing physical buttons.
Friendly visualization features:

 

The onboard display interface (optional 1.69-inch 240x280 capacitive touch screen) and the MIPI camera interface(optional 200W pixel camera) provide a stronger visual experience.
High port compatibility:

 

Route USB-OTG to USB Type-C port.
Applications
artificial intelligence application
face recognition
posture recognition
gesture recognition
video surveillance
Specifications
 

Main Chip BL808

 

CPU

 

RV64GCV 480MHz

 

RV32GCP 320MHz

 

RV32EMC 160MHz

 

NPU

 

BLAI-100

 

Capacity

 

768KB SRAM + 64MB UHS PSRAM

 

Encode and Decode

 

MJPEG and H264(Baseline/Main)

 

1920x1080@30fps + 640x480@30fps

 

Camera interface

 

DVP and MIPI-CSI

 

Display interface

 

SPI、DBI、DPI(RGB)

 

Wireless

 

Wi-Fi 802.11 b/g/n

 

Bluetooth 5.x Dual-mode(BT+Bluetooth)

 

Wi-Fi / BT co-existence

 

Port

 

USB 2.0 HS OTG/TYPE-C

 

Basic Parameters

 

Onboard components

 

USB to UART debugger

 

1.69-inch 240x280 capacitor touchscreen

 

2M solution camera

 

1 analog microphone、1 LED、1 TF card slot

 

TYPE-C interface

 

5V±10% 0.5A

 

Temperature rise

 

<30K

 

Operating temperature

 

-10℃ ~ 65℃
Hardware Overview
Function block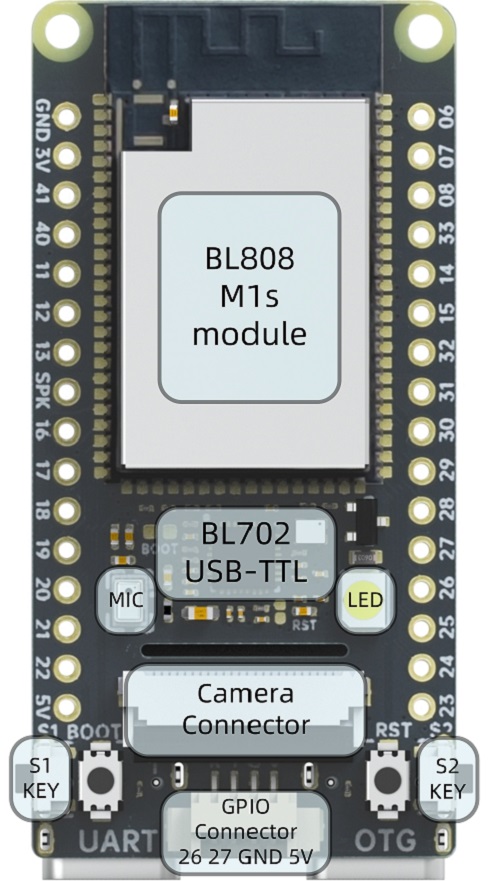 Dimensions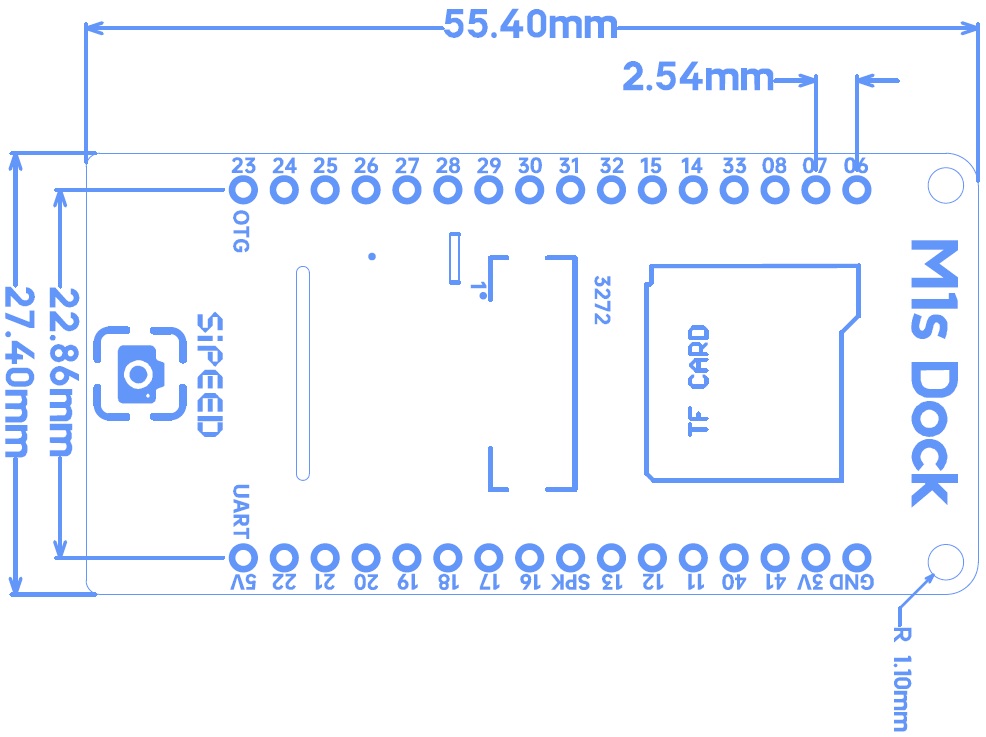 Pin Out